Public Meeting Room Reservations
Simplify Your Room Management
Your patrons are used to the convenience of online reservations for concert tickets, booking flights and hotels. Why not offer the same convenience when patrons reserve your meeting rooms and equipment. Your rooms and equipment are assets for your community, but how easy is it for people to get access?
When you offer online room reservations your patrons can quickly browse through available rooms, read descriptions, preview room images, see equipment available, and reserve rooms in real-time on their computer, tablet, or smartphone. Your patrons can also "opt-in" to receive automated reminders via email or text message.
Search Criteria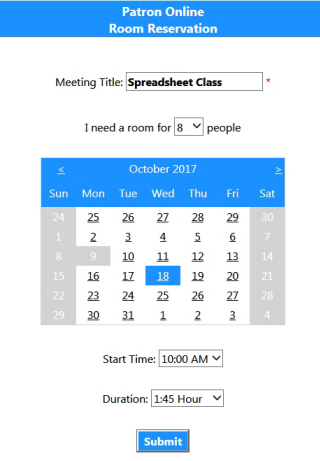 Compatible with all smartphones, tablets and desktop computers.
Schedule time slots for reservations
Set special reservation time limits for certain hours of the day
Set room available by dates, times, open and closed hours, and holidays
Set different schedules for branch locations
Reservations can include necessary Setup and Breakdown times
Search room availability by date, time, duration, seating capacity and more
Search room availability across multiple locations from a single interface
Require Meeting type descriptions
Set the maximum number of participants per room
Set exceptions for rooms when reservations are blocked (e.g., staff meetings)
Displays the hours of operation for each room and/or location
Additional information can be required:
Require a contact name, phone and email
Require the group or organization name
Require a meeting type and/or a description of purpose
Room Details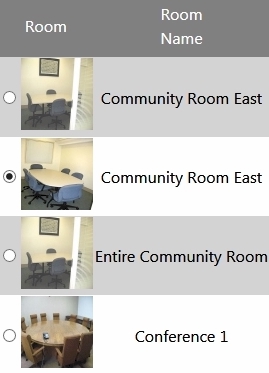 Associate a resource (e.g. computer, monitor, projector) with a location and/or room
Manage room availability by date, time, duration, seating capacity and more
Set hours and restrictions by room and/or location
RSVP Room supports multiple buildings from a single interface.
Additional room details can be displayed:
Rental Pricing
Telephone Access
Copier Access
Patron Reminders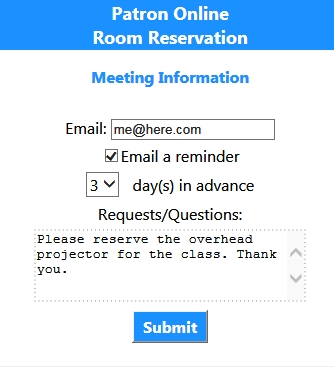 Require all reservations be reviewed by staff
Enable Auto-Confirm for all reservations
Require patrons agree to your Acceptable Use Policy
Optional automatic email and/or text confirmations
Provide patron equipment request form
Patron Login Options
Patron Authentication
Require a contact name, phone, email, and/or organization
Set limits based on the login (e.g. administrator, staff, community)
Analytic Reports
Reports can be filtered by Date, Time of Day, Day of Week, and more
View room & equipment requests in real-time
Track patron unpaid rental fees
Analyze room & equipment usage
Create spreadsheets with detailed Statistics on room usage over time
Try It
Visit our online room reservations demo